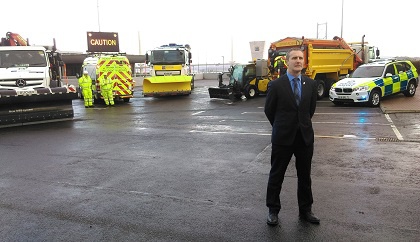 Transport secretary Michael Matheson says the country is prepared for bad weather
Transport bosses in Scotland say they have 'learnt lessons' from the Beast from the East, in the run up to winter this year.
Tougher equipment is being brought in to deal with snow, including a specialist plow from Finland and with enhanced gritters from Italy.
Advice for drivers also is being made clearer, to avoid scenes similar to those earlier this year.
The Scottish transport secretary is reassuring Scots that salt supplies are full, and there is one gritter for 'roughly every 16 kilometres' of the Scottish trunk road network.
The cabinet secretary for transport, Infrastructure and Connectivity, Michael Matheson, said: "We can't prevent the challenging weather we see during the winter period, but our teams work all year round to ensure we're fully prepared and ready to respond when difficult conditions set in.
"The challenges faced during the 'Beast from the East' are still fresh in the memory, so we have looked to make improvements across the board, from equipment and treatments to information and advice for travellers.
"As always, the Traffic Scotland mobile site provides up to date information on the trunk road network, the @trafficscotland twitter page is regularly updated and the popular gritter tracker is also available.
"Transport Scotland officials will continue to work with Police Scotland, the Met Office and other partner organisations to ensure we have a joined up approach to keep Scotland moving this winter."