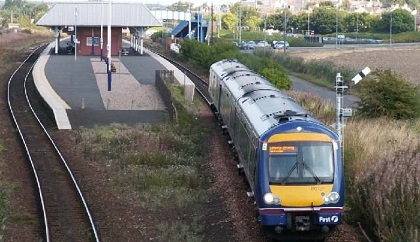 Campaigners are fighting for a rail link between Leuchars (above) and St Andrews
Campaigners fighting for a new St Andrews rail link are welcoming its inclusion in a new business plan for Tayside and North East Fife.
Known as the 'Tayplan', it sets out £1.8bn of investments that could create 15,000 jobs.
It says that a 'feasibility study' should be carried out on the plans to open a railway line between St Andrews and Leuchars.
Fife Council is offering to carry out the study, and is asking for funding.
The rail link proposal is being backed by tourism bosses and business experts.
A StARLink spokesperson said: "This has been a long time coming but the inclusion of a request for funding to pay for a professional study is a sign of significant progress.
"While this is not the final proposal to be sent to the Scottish and UK governments, because the benefits of the line would be substantial, as the report says, we will be doing all we can to ensure that it remains in the final version:
"A new St Andrews rail link has been recommended by rail authorities, tourism chiefs and business experts and the consensus of all is that such a link would prove to be a successful venture operating at a profit.
"The time has come to reinstate a rail link to St Andrews and the Tay Cities' Deal provides the ideal opportunity to do so."