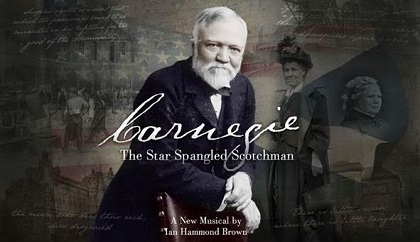 The musical will run at the Carnegie Hall in May
The great-great-great grandson of famous Fifer Andrew Carnegie is set to play him in a musical about his life in Dunfermline.
28 year old Joe Whiteman first played the part at the Edinburgh Fringe in 2016.
The show will run at the Carnegie Hall next May and tell the story of the businessman's life, and how he donated 90% of his $350 million fortune to charity.
The musical has been developed over the last five years by Ian Hammond Brown, co-writer of Whisky Galore A Musical, who won a development grant for it from Creative Scotland in 2013.
It ha since enjoyed a successful run at the 2016 Fringe, with Joe Whiteman playing his ancestor for the first time.
Fife Cultural Trust has donated the hire of the theatre free of charge as its tribute to the legacy of Andrew Carnegie.
Carnegie - The Star Spangled Scotchman tells the story of Carnegie's life from the viewpoint of a steelworker killed in the controversial homestead steel plant dispute of 1892 who has come back from the afterlife to decide on Carnegie's eternal fate in the last two hours of his life.
Ian Hammond Brown hopes the musical will raise awareness of the Carnegie story and Dunfermline, include a community choir and help support New Musical Theatre Alliance Scotland, a not-for-profit organisation set up to help nurture new musical writing talent in Scotland.
It is hoped that enough will be raised to also give donations to Alzheimers Scotland and Strathcarron Cancer Care.
Speaking about the new run, Ian Hammond Brown said: "I'm delighted we're able to bring Carnegie - The Star Spangled Scotchman to Carnegie Hall to mark the centenary of Andrew Carnegie's death.
"It's a great opportunity to work with a fantastic cast again, a number of whom appeared in the Fringe production, as well as support the local community.
"It's always been my dream to perform the show at the Carnegie Hall and it's particularly poignant in 2019 as it's the centenary year.
"Many thanks to Fife Cultural Trust for its support."