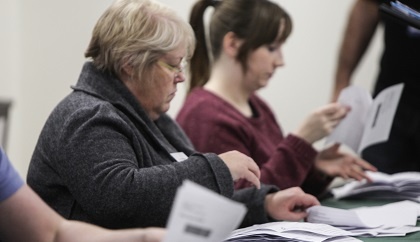 The leader of North Glenrothes Community Council is urging young people in the town to represent their area in the upcoming elections.
There are currently three community council areas without a councillor - Auchmuty Woodside, Glenwood and Southparks and Rimbleton.
Ron Page says there are a number of exciting campaigns for residents to be involved in -including the development of the Tullis Russell site and the A92 campaign.
To stand, candidates must be 16 or over and be on the electoral roll.
Speaking to Kingdom FM News, Mr Page said: "The A92 campaign should involve the whole of Glenrothes and not only the NGCC and Markinch Community Council.
"Likewise the future of the OOH GP service for the Glenrothes area, and the TR housing development. All applications to Fife Council for planning permission involve discussion with the local CC.
Members of the NGCC would like to see community councils for all the areas in the town to bring together active people interested in their local community. They could be from local associations, churches, or people as individuals.
"It's a matter of bringing local people together to try to make things happen. And this could be in their own local area or the whole of Glenrothes."