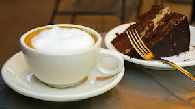 Residents in Glenrothes will be invited to grab a coffee with police.
The Cop-a-Coffee initiative is aimed at giving people an opportunity to voice their concerns about policing in the area.
Officers have joined forces with Costa Coffee in the Kingdom Shopping Centre and will be hosting two-hour sessions and allowing people to raise any issues, ideas or concerns with Community Officers.
The scheme is part of Fife Police's objective to 'keep the Kingdom safe' and engage with the community, particularly hard to reach groups, to achieve this aim.
Sergeant Chris Mutter from Glenrothes police said:
"We understand that we need to be flexible so that we can engage with the diverse communities that live in our area and it is hoped that by meeting with local officers in this way people feel comfortable coming to discuss their views in an informal meeting"
The first two-hour session will be held on Tuesday 30th January at 12 noon. Fife police hope this can become a more regular slot with monthly sessions.
More information can be found on Glenrothes Police's Twitter account.