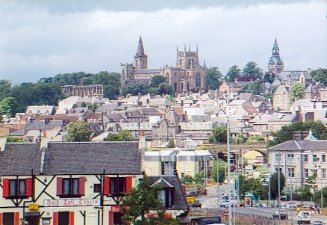 A range of options are up for discussion about the future of the Dunfermline Business Improvement District.
Councillors in Fife will discuss what the next steps for the Dunfermline Business Improvement District will be after they lost a renewal vote.
It means the business Improvement District will have to officially wind the group down by the 20th of September
A report going ahead of Fife Council states not having the organisation - also known as BID - has raised a number of concerns about leaving a gap in local economic development in the town.
Other concerns about anti-social behavior increases through the loss of the Purple Flag activities and the impact that will have on the nighttime economy have been highlighted.
The report further states without BID there could be fewer organised events, the appearance of the town centre could deteriorate and businesses might mot be as engaged with the local community.
There's also fears a number of high profile events like the Christmas lights switch on and the Winter Festival won't go ahead without the group.
In the immediate aftermath of the renewal vote three options are up for consideration.
They include doing nothing, find funding for a 12 month transition period to keep some of the core activities before holding a further ballot.
The final option up for discussion at the meeting on the 15th of August is to pat for activities until the end of the financial year to let them find alternative models for delivering the town centre economic development and regeneration activity.
Councillors will also consider an number of opportunities and options for the future of the group which include; develop a new model to replace BID, getting other organisations involved like the Carnegie Development Trust and getting local businesses to contribute financially on a voluntary basis and redrawing the boundaries so more businesses can be involved.