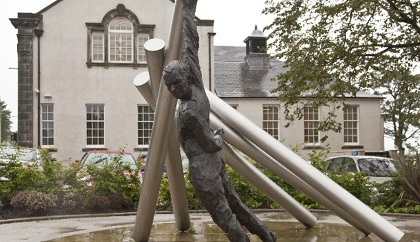 A memorial to mining sits in Lochgelly
Calls for miners who were arrested during strikes in the 1980s to be pardoned are being backed by one pit worker from Fife, who is describing the idea as a 'long time coming'.
A review of convictions and police tactics during the 1984/85 industrial action, ordered by the Scottish Government and led by John Scott QC, took place at the end of 2018.
An interim reported is expected to be delivered to ministers in January 2019.
Around 500 Scottish workers are believed to have been arrested during the dispute, many believe that they were blacklisted.
That led to them losing their jobs, their homes and their relationships.
Ronald Campbell, 74, from Ballingry was a union leader during the miner strikes.
He was arrested twice, once at a protest at Ravenscraig, then again at Dysart Road while returning to a bus.
Telling Kingdom FM about his experiences of being arrested, he expressed sadness that some of his former colleagues will be unable to benefit from the enquiry and any subsequent outcomes: