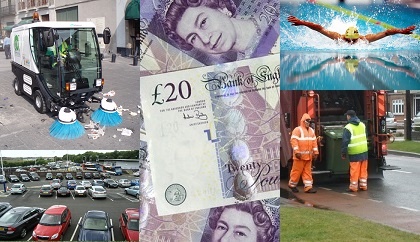 Council finances are under pressure
Councils in Scotland are going to continue struggling financially if demand on services continues to rise and budgets are cut further by the Scottish Government.
A report by Audit Scotland is praising local authorities for managing their budgets well over the last year, but is warning that financial pressures are likely to continue.
The unfreezing of council tax by Holyrood in 2017 has allowed councils to increase their revenue by £49m during 2017/18.
This has offset a real-terms decrease in Government funding of around 2.3%, but with forecasts suggesting more reductions in the medium term, councils are being warned that they will need to make more savings.
Graham Sharp, chair of the Accounts Commission, said: "Councils did a good job last year in managing resources as budgets are tightened and demands on them rise.
"The position varies from council to council but there is clearly need for continuing change in the way services are provided.
"It's not been easy but the pressure on them - and the key services we all rely on - shows no signs of easing."
In Fife, a long-term financial model spanning 10 years has been identified by the Accounts Commission as 'an example of good practice among Scottish councils'.
Council tax in Fife was raised by 3% in April 2017, and is expected to continue to rise by 3% again in the next budget.
The report suggests that the pressure remains on councils to make further cuts and meet demands on services more efficiently.
Cllrs David Ross and David Alexander are the co-leaders of Fife Council: