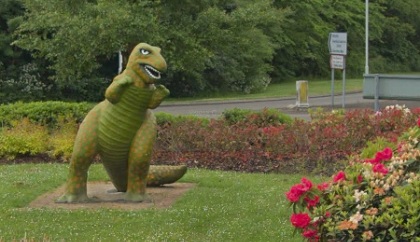 "Rexie" the dinosaur has been located at Caskieberron roundabout since 2011
A dinosaur that has sat on a roundabout in Glenrothes could be moved after being involved in its second car accident.
Known locally as 'Rexie', it is in the process of being repaired by the original artist, Malcolm Robertson, after being hit by a car last month.
After being perched on Caskieberran roundabout since 2011, council officials are now looking into moving him to a safer location.
He sat in the town's Waverley Drive when he was created in 1980.
Kevin Jollicoeur is a parks, streets and open spaces area officer at Fife Council: