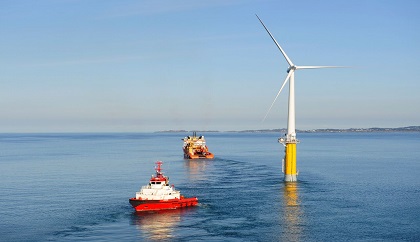 A Marine Scotland consultation will take place in Pittenweem today to gauge opinions on the future of wind projects in the Kingdom.
Government officials will be present at the event which takes place at Pittenweem Town Hall between 13:00 and 20:00.
A presentation on the draft Sectoral Marine Plan for Offshore Wind Energy will be made in the evening and Fifer's will have the opportunity to ask questions and provide feedback throughout the day.
A Scottish Government spokesperson said: "Events like this in Pittenweem provide an important opportunity to engage with local communities, gather invaluable feedback and views, and inform the future development of offshore wind around Scotland.

"We want to explore the huge potential of offshore wind, which can unlock investment in our supply chain, create jobs in our coastal communities and contribute to our net-zero targets.
"We want to achieve this while giving due regard to our marine environment and, importantly, engaging with local communities and stakeholders, in order to ensure their views are taken into account in the development of the Sectoral Marine Plan.

"This Plan will provide the spatial framework for the first cycle of seabed leasing by Crown Estate Scotland and we would encourage the public to engage with the consultation at these events or by providing a response online. The consultation will close on 25 March."