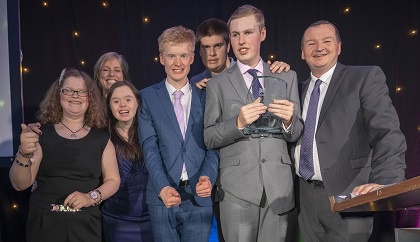 A group of youngsters from Fife have won a national enterprise award for their involvement in a charity kitchen project.
Fiona Knowles, Chloe Hutchison, Patrick Steffens, Laurie Doran and Julia Stadnik- all from Fife College- were recognised at the Scottish Commission for Learning Disability Awards in Edinburgh earlier this week.
It follows their work with the Sunshine Kitchen, which offers young people the opportunity to develop their cooking skills in a supportive environment.
Fife College lecturer Gayle Nelson, who runs the charity kitchen, said:
"The students are absolutely delighted to win this fantastic award.
"This project gives them the opportunity to really use the skills which they are learning in College and it is a real affirmation of all their hard work over the past year.
"They had a wonderful time in Edinburgh at the Awards Ceremony. SCLD apparently receive many nominations and so it was wonderful to receive such a commendation from the judges."