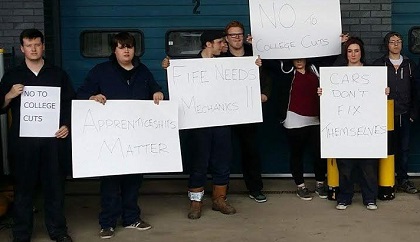 Students are calling on Fife College to reverse the closure
A Fife college campus in Rosyth is closing, putting hundreds of student places at risk.
Full time automotive courses at Robert Purvis House are being scrapped from this summer. The campus at Rosyth is to close, with students being moved to Stenton in Glenrothes for the remainder of the year.
It is thought around 180 mechanic places will disappear.
Students have told Kingdom FM News that the course is considered "poor performance" because of the number of students leaving the course - despite many leaving to take up apprenticeships.
They have launched a petition calling for the courses to be saved. It was started by Dawnah Selfridge:
A spokesperson for Fife College said:
"After reviewing our automotive offering, the difficult decision has been taken that there will be no full-time automotive programmes delivered after academic year 2015-16 at Fife College.
"As a regional college, we need to ensure that the courses we deliver meet the needs of students, employers and the local economy, offer a high quality learning experience and provide opportunities for students to progress to employment or further study once they have completed their course.
"The reducing number of appropriately qualified students applying for automotive programmes, the limited opportunities available to progress into local full-time employment within the automotive industry and the investment required to continue to offer the high quality learning experience provided by other training providers were among the factors that led to the final decision being made."

Anyone with any problems is being urged to contact the college on 0344 248 0115. Staff are offering to deal with concerns on an individual basis and to support students in helping to find suitable alternatives.