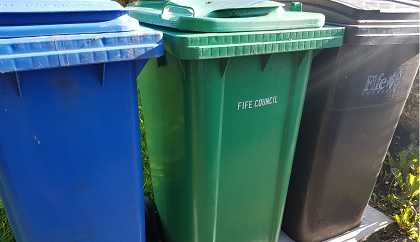 Bin collections in Fife will resume as normal in June.
From the 1st of next month, brown bins will be collected every two weeks.
In March, the collection of those particular bins was changed to every month, because of the coronavirus outbreak.
Also as of next month, all blue, green and grey bins will be collected as normal.
Residents concerned about excess food waste should put it in the blue landfill bin.
Fife Council says it's doing everything it can to collect all bins, but if any haven't been collected then locals are advised to keep them out and the local authority's staff will do its best to return.
But the council adds it might not be possible to come back and collect those bins until the next scheduled collection day.
Service Manager Sandy Anderson thanked residents for their patience saying: "Thank you for your continued understanding and co-operation.
"We're pleased to be returning the brown bin collection to normal from June.
"We're providing the best service we can with what we have."
Fife bin collection dates can be accessed through this link from the council.