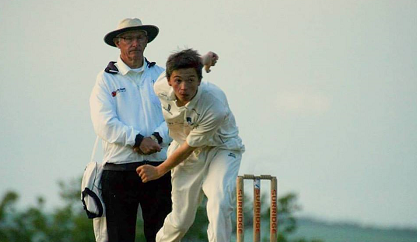 Bowler Greg will shift to the role of batsman for the 12-hour challenge (Pic: Facebook)
A cricketer from Fife will take on a mammoth 12-hour "batathon" in memory of his former teammate who died after a short battle with motor neuron disease.
Greg Chambers, from Falkland Cricket Club, will continuously bat against a bowling machine at Cluny Activities centre from 8am on Thursday 31 October in aid of MND Scotland.
The 21-year-old set himself the challenge after the death of popular club member Rory Manson in 2016.
Speaking to Kingdom FM News, Greg told us about the impact his death had on the club:
The club handed over a cheque totaling more than £800 to the charity last year, after Greg completed a similar challenge.
He said batting for 12-hours straight isn't an easy job:
You can support Greg via his GoFundMe page: https://bit.ly/322P6P1