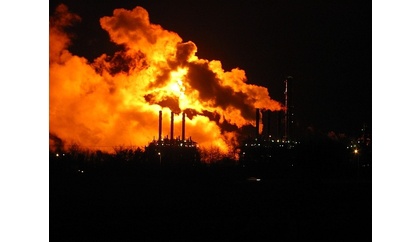 Fife Ethylene Plant (©: Richard Webb)
ExxonMobil has apologised for any concerns caused to local communities after elevated flaring took place at Mossmorran last night.
The firm, who run the Fife Ethylene Plant, says it was deployed as part of ongoing work to re-start operations.
But the flare was reportedly seen for many miles across Fife and in other locations including within Edinburgh and Tayside.
ExxonMobil insists the process and use of the flare was 'completely safe and controlled' and its team worked to cut the size and duration of the flare.
But Councillor Linda Holt from Mossmorran Action Group claims locals were sceptical about the safety of the process.
She said: "Nobody, absolutely nobody, in the local area is buying that this is safe or that this is necessary."
People took to social media to express their views with the flare reportedly seen from a variety of locations outside the Kingdom.
Councillor Holt added: "For people who live in the immediate area, it is absolutely horrific.
"Social media went berserk.
"We've had about 300 people join the Facebook page, because they just needed to go somewhere and say 'this is what we're seeing and we can't believe it'
"We had reports from Portobello, from Livingston, from Monifieth, from Forfar, from Dundee about people seeing the light and not believing what's going on.
"Obviously for people living nearby, it was absolutely terrifying."
A spokesperson for ExxonMobil said: "Yesterday evening we deployed our elevated flare for a period as part of our ongoing work to re-start our operations.
"This process is completely safe and controlled, and our team worked to reduce both the size and duration of the flare as quickly as possible.
"We exited the flare later in the evening following the safe completion of our work.
"We apologise to communities for any concern that this may have caused."
The Scottish Envrionment Protection Agency (SEPA) said on Thursday night it was aware of the 'fluctuations' of the elevated flare.
An update from the agency on social media on Friday evening said early indications suggest the elevated flaring was because of a problem with one of the process units and reduced capacity of ground flares.
It'll continue air monitoring in local communities as well as stating it is aware of the concerns of locals.
ExxonMobil says it recognises the surrounding steam and light resulted in a 'dramatic visual effect'.
The firm added: "The elevated flaring was addressed within four hours, and we are committed to safely completing the re-start as soon as practicable, while avoiding elevated flaring wherever possible."
Image from Richard Webb released under Attribution-ShareAlike 2.0 Generic