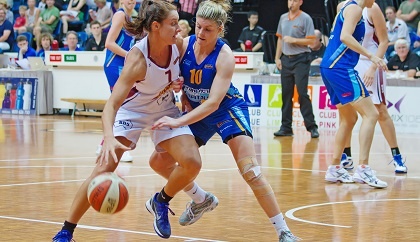 An advisory board is being set up to help the Scottish Government encourage more women into sport.
It will be made up of key leaders from the female sporting world, as well as leading women in business and the media.
Scotland's Sport Minister Aileen Campbell has announced an awareness raising week will be held across the country next month.
It is aimed at improving girls' self esteem, and changing public perceptions of women's sports.
Ms Campbell said:
"Research shows that sport improves health and well-being, leads to improved self-esteem and, at the elite level, gives everyone something to cheer for as our stars excel on the international stage.
"These initiatives will help us to increase female participation in all areas of Scottish sport and support our work to transform public perceptions.
"There is much to be proud of, but I am conscious that we must do more to increase sporting participation among women and girls, and to build awareness around the successes we already have.
"That is why the inaugural Women and Girls in Sport Week, and the expert advisory board, are so important.
"Together, they will develop and promote news ideas and approaches that will drive participation, transform perceptions, and develop the stars of the future."
Claire Nelson, CEO of Netball Scotland and Women and Girls Advisory Board member, said:
"Despite the pockets of progress that have been made in female sport recently, the levels of disparity are still significant.
"There is much that still needs to be done to achieve a landscape that is fair and equal for all.
"The Women and Girls in Sport Advisory Board will aim to address the key challenges currently facing women and girls in sport, as well as the many barriers to participation.
"We will seek to find an aligned strategic approach to driving long-term, meaningful change.
"The work that we have undertaken at Netball Scotland to tackle many of these challenges has delivered significant results - the Sirens For Success Programme being one notable achievement in this area - and I am hoping to bring the learnings, insights and expertise from my sport in order to support the drive for positive action."