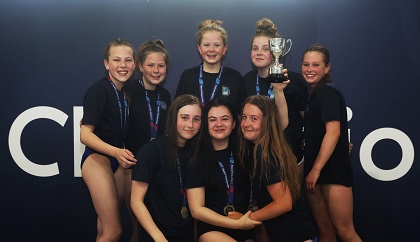 Dunfermline Water Polo's under-16 girls team were named champions at the Scottish Cup earlier in June
Dunfermline Water Polo Club is at risk of losing precious pool time, after Fife Sport and Leisure Trust's announced it is cutting service hours.
Carnegie Leisure Centre will see a six-hour reduction to its opening times at weekends.
One of the teams that will affect is the club's under-16s girls team, recently crowned champions at the Scottish Water Polo Cup.
The girls train from 5-8pm, but the club has been informed Carnegie will be closing its doors from 5 o'clock onwards.
Speaking to Kingdom FM News, men's senior team coach Alasdair Campbell is worried the cuts could have a detrimental impact on the club:
Chief operating officer for Fife Sports and Leisure Trust, Wendy Watson, said:
"Carnegie Leisure Centre staff are proactively engaged and consulting with all club users- the majority of whom are working constructively to rearrange time slots.
"All clubs are being offered like-for-like time slots with centre staff committed to meeting and resolving their needs.
"The trust is committed to minimising any impact to customers so that access to affordable sports and leisure opportunities is delivered, allowing local people to enjoy the health and well-being benefits of physical activity."