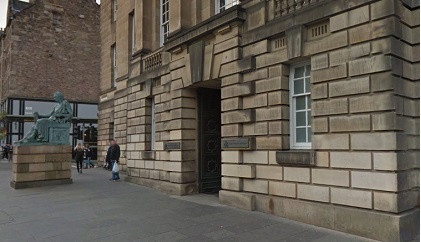 Peters was jailed at the High Court in Edinburgh
A repeat drug trafficker was jailed for seven years yesterday after his claim that heroin worth more than £4000 on the streets was for his personal use was rejected.
Kevin Peters was caught with an ounce and a half of the Class A near his home in Blacklaw Road, in Dunfermline, in Fife, on May 15 last year.
Peters, 48, claimed that the quantity of the drug, which could potentially produce 404 tenner bags for street sales, was for his own use and he was not guilty of involvement in supply.
But a jury at the High Court in Edinburgh convicted him of being concerned in the supply of heroin and then learnt he was subject to a minimum seven year prison term because of his criminal record, which includes three previous jail sentences for trafficking Class A drugs.
The trial judge, Lord Kinclaven, told Peters: "There is no alternative to a significant custodial sentence."
Peters, who was freed from his last jail sentence in 2013, said he began abusing heroin in the mid 1990s and after a period of abstinence from the drug began smoking it again in 2017.
He said that on the day police stopped him with the heroin he was returning home after a trip to Edinburgh to get the drug and claimed he bought it for pounds 750 in the city's Sighthill area.
He denied he intended to supply it to anyone else and said: "It was for me to smoke it." He estimated it would last him for about a month.
He said it was cheaper to buy it in that quantity and his partner had received an inheritance months earlier.
Onward supply
Police had approached Peters at a car and noticed he was unsteady on his feet and detained him. He produced a bag of heroin from his shirt pocket and a separate quantity was found in a trouser pocket.
A police drugs expert said the quantity recovered from Peters in May last year was "definitely for onward supply"
The court heard that the most common street deal in Fife at present as a half gram quantity of heroin costing pounds 30 and the amount recovered from Peters could have produced 80 such deals.
Defence counsel Kevin McCallum said: "He has clearly struggled with an addiction to controlled drugs, particularly heroin, for a number of years."
He said: "What his role in the events of May 15 was we may never know, but the Crown did not have the basis to suggest anything other than a courier."
Peters was also convicted of possessing heroin at his home in Blacklaw Road on February 14 last year when a significantly smaller quantity was found.
Reporting by Dave Finlay.