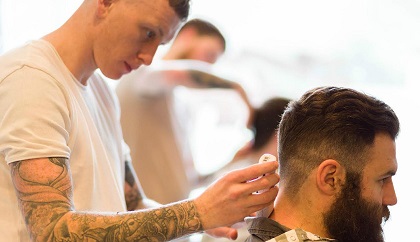 Scott has reached the live final of Scotland's Best Barber competition
A Dunfermline barber has made it through to the finals of Scotland's biggest barbering competition.
Scott Reynolds, 23, from the Old Town Barber Club, has made it through to the live final of Scotland's Best Barber 2017 after finishing within the top six of a competitive online vote.
The vote featured 25 of Scotland's finest barbers and received in excess of 5500 votes.
Scott qualified in third place, with 518 votes.
On his qualification Scott said:
"I'm absolutely thrilled to have made it through to the live final.
"I had so much support throughout the online vote and want to thank everyone that took the time to endorse me."
Barbering wasn't Scott's first career choice,
He says:
"When I left school I really didn't know what I wanted to do.
"I had four unconditional offers for university and everyone thought I was mad not to go on to University but I knew it wasn't for me.
"I quickly got myself a job with decent money, but was pretty miserable and I had no real job satisfaction.
"I was diagnosed with type 1 diabetes when I was 17 years old and was basically in denial about my condition.
"I didn't look after myself and ended up in hospital in a diabetic coma.
"I knew I had to get out of the job I was in and start looking after myself.
"Just by chance the guy who used to cut my hair was talking about a new barbers his boss was opening up and that they might be looking for an apprentice.
"I approached Brian Jobson the owner about training as a barber and he said he would give me a trainee job and I've never looked back."
The 23 year old now has until April 23rd to prepare, before he performs some of the most important haircuts of his career in front of an eager crowd at the Scottish Hair and Beauty show in Edinburgh's Royal Highland Centre.
Scott continued:
"To be in the final for Scotland's Best Barber 2017 is completely surreal, to think that 4 years ago I dreaded coming into work and now I'm doing something that I love is crazy, it's been life changing for me and my health.
"I'm definitely nervous about the live final, but getting the chance to be with the other finalists and represent my trade and an industry that I'm passionate about is an honour.
Scotland's Best Barber 2017 is being hosted by premium educational service the Great British Barbering Academy (GBBA) and the live final will be judged by a group of the United Kingdom's most renowned barbers, including the GBBA's Head Educator Mike Taylor, Britain's Best Wet Shave winner Luigi Caterino, and last year's Scotland's Best Barber winner Stacey McCabe.
Talking about this year's final, Stacey said:
"There are some seriously talented barbers taking to the stage this year.
"It's a real testament to how strong the barbering industry is in Scotland and I wish them all good luck.
"The best advice I can give is to prepare well and just enjoy the experience."
On the day, each of the six finalists will have 60-minutes to produce their finest work.
Their barbering skills will then be marked out of 100 on a variety of categories including difficulty, techniques used, health and safety, stage presence, and overall look.
Barbering is currently enjoying a remarkable renaissance, especially in Scotland.
Research conducted by premium men's grooming brand The Bluebeards Revenge has revealed a 15% surge in the number of barbershops that have opened over the last 12 months; the total number of shops now trading on Scottish high streets stands at approximately 1,345.