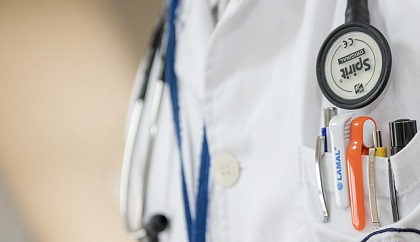 Most doctors worry the health service is more concerned with targets than good quality care
The NHS is being accused of 'skewing priorities' by being more concerned about targets and money than about patient care.
It is what around 70% of doctors are telling the British Medical Association in a Scotland-wide survey.
The study has also found that nearly 40% of doctors think bullying and harassment is a problem in their workplace.
While over 90% are working longer than their contracted hours.
That has leading to calls for health bosses to 'reverse' the downfall of working conditions in Scottish hospitals.
Lewis Morrison, the chair of BMA Scotland, said: "Our survey provides clear and worrying evidence that doctors in Scotland believe both national targets and finances are prioritised above the quality of patient care.
"This would indicate that the way our NHS is currently run is skewing priorities and not always putting the patient first.
"That simply cannot be right – everything our health services does should be about delivering the best care possible, and not simply meeting financial or waiting times targets, which often tell us little about the actual quality of care.
"Indeed, the evidence from this survey simply reinforces the deep concerns that our members repeatedly express.
"It is clear from the results that there are simply not enough doctors to deliver the quality care we all strive to provide.
"Doctors are fearful of making mistakes and then being blamed for them – despite being overworked and in a system under too much pressure.
"It is also clear from this survey that bullying, and harassment of doctors continues to be far too prevalent.
"This type of behaviour is completely unacceptable, and we need urgent steps to promote a more positive workplace across the NHS in Scotland – something the BMA is committed to working towards.
"This survey must be more than just a means to highlight the problems doctors are experiencing.
"It has to be the start of a process that begins to reverse the deterioration in working conditions for doctors and other healthcare workers, in Scotland.
"I truly believe that if they are used constructively, the results will be a useful tool not just for us, but for policy makers, employers and managers at all levels."