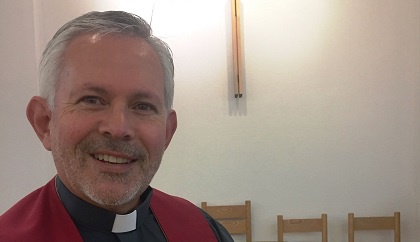 Rev Steyn has lived in Cupar with his wife for over five years
A Church of Scotland minister in Cupar is being denied citizenship by the Home Office - because he is doing extra work in France.
South African-born Jan Steyn, 57, and his wife moved here more than five years ago and own a house in the town.
But because of Rev Steyn's temporary position at the Scots Kirk in Paris, he is being told he cannot stay here permanently.
Rev Steyn said: "Having our applications for citizenship denied by UK Visas and Immigration was devastating news.
"I work for the Church of Scotland, a UK-based organisation, and we plan to return to the UK which is our base and the family home that we own is in Cupar.
"This decision has thrown our lives and my ministry into indescribable uncertainty and turmoil.
"I realise citizenship is not our right and is actually a privilege.
"There are guidelines for the process but someone, somewhere decided to ignore the UKVI's own guidelines without reading the provided documents properly, speaking to us or the organisation that I work for.
"Someone made a judgement on our intentions based on a misinterpretation of a letter which actually confirmed our commitment to serving through a UK-based organisation."
Pimpernel
The Scots Kirk (or L'Église écossaise) is a congregation of the Church of Scotland based in Paris, famously led by Rev Dr Donald Caskie - known as 'The Tartan Pimpernel' after helping around 2,000 allied soldiers escape the Germans in France during World War Two - in 1938.
Rev Steyn has been its minister since April 2017.
His MP, Stephen Gethins, said: "The Home Office must look at the correspondence properly.
"They have ignored the fact the South-African born couple moved here a long time ago, bought a permanent home here and that Mr Steyn is an employee of the Church of Scotland where he will continue to work when his time in Paris comes to an end.
"Although the couple have Leave to Remain in the UK, the decision to deny them citizenship has been very stressful and it is clear the Home Office has once again failed to look at the facts.
"Rev Steyn and his wife have made a huge contribution to the Cupar area and will do so again.
"The Home Office has denied having immigration targets to meet but grave errors have been made in this case and they need to own up to it.
"The family has contributed so much over the years and are an integral part of our community.
"They deserve much better."
The Prime Minister has given an assurance that the Home Secretary will look carefully at the case.
A Church of Scotland spokesman said: "Mr Steyn is a valued minister of the Church of Scotland, whether he is in our congregation in Paris or one of our charges in Scotland.
"We value his ministry and want him to continue serving with us in the future, whether it be in the Church of Scotland congregation in Paris, at the moment, or Scotland in the longer term."
The Home Office has been approached for comment.