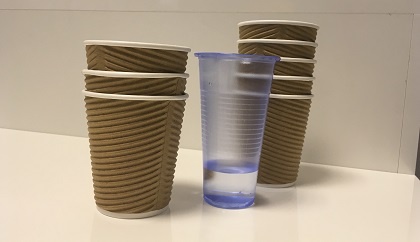 Councillor Darren Watt and Councillor Kathleen Leslie called for use of single plastic use items like cups to end across Fife Council in his motion yesterday, which was amended by the Labour-SNP administration
A Cowdenbeath councillor is calling for cross party action after a motion calling on Fife Council to stop using 'one use' plastics was amended by the Labour-SNP administration.
Cllr Darren Watt and his fellow party colleague Cllr Kathleen Leslie put a motion yesterday calling for its use to end across the local authority.
They hoped their motion would have resulted in single use items such as cups and plastics disappearing.
Had the motion passed yesterday, the changes would have been implemented at Fife and Rothesay Houses.
Cllr Watt sits on the Conservatives bench at the authority, and is a member of Fife's Environment, Protective Services and Community Safety Committee.
He said: "Their amendment offered very little in terms of substance and decisive actions and their decision to put forward an amendment was clearly nothing more than petty politics.
"Something as positive and progressive as our motion should transcend party politics and gain cross-party support across the chamber.
"The overall aim of this motion was simple - to make a very public statement of intent by Fife Council and acknowledge we must step up our own efforts and collectively strive for smarter, cleaner and possibly cheaper ways of working.
"Fife has always led the way with recycling initiatives and I praise the work that's been done prior to now - but now it's the time to step it up a gear.
"There is a lot of momentum nationwide at the moment, however I believe such decisions like an outright ban on plastic straws is nothing more than a headline grabber.
"We are looking for long term, smart and effective ways of reducing our single use plastics."
Fife Council have been contacted for comment.