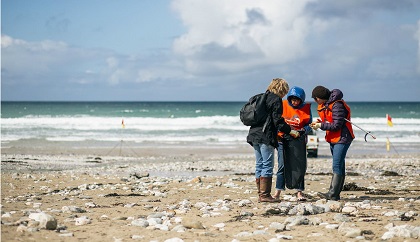 MCS volunteers collected tens of thousands of pieces of litter during the beach clean up
The Scottish Government is being praised for its commitment to bringing in a ban on single use plastic cotton buds.
It comes after volunteers spent four days picking up litter on beaches across the country, removing more than 75,000 pieces of litter.
Campaigners say the amount collected in this year's Big Beach Clean Up was roughly the same as the weight of a giraffe.
Catherine Gemmell, Marine Conservation Scotland Conservation Officer, says the support from volunteers in Scotland was overwhelming: "I am always in awe of the incredible people who give up their precious time to help us clean and gather important data on our beaches.
"This year left me speechless, but not our volunteers.
"They tweeted, shared, instagrammed, talked, cleaned and surveyed to such an extent that our social media feeds were and still are filled with their work.
"Finally, beach cleaning is mainstream and at MCS we couldn't be happier – it's what we've been working towards over the last 25 years.
"We're also grateful to playes of People's Postcoe Lottery whose support makes this event go from strength to strength each year."
The most frequently found items on Scottish beaches were tiny pieces of plastic and polystyrene, whilst more sewage related debris (SRD) – that is stuff that is flushed down the toilet but shoul not be, like nappies, cotton buds and wet wipes – was found on Scottish beaches than anywhere else in the UK.
Catherine Gemmell continued: "During this year's clean up the number of cotton bud sticks found on Scottish beaches rose from 29 per 100 metres surveyed to 36."
"That's the second highest number found during the last decade and double the amount compared to the rest of the UK."
Earlier this year the Scottish Government announced a ban on their sale and manufacture after seeing data from Great British Beach Clean events and environmental charity Fidra's Cotton Bud Project, which highlighted the impact of cotton bud sticks when they are mistakenly flushed.
Ms Gemmell added: "This year's appalling figures show that the Scottish ban cannot be implemented soon enough.
"Once the ban begins, alongside the fact that most major retailers have switched to paper-stemmed sticks, we should start to see a drop in the number of plastic cotton bud sticks we find.
"But as with all things plastic – their legacy will last for decades."