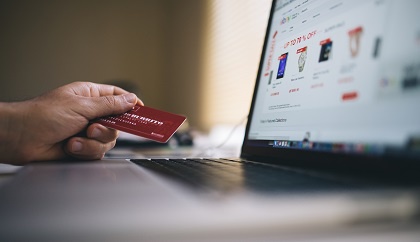 More people are using contactless payment systems
Over 5,000 cases of fraud have been investigated by Police Scotland over the last year, which is up by a quarter on last year.
Officers in Fife have dealt with 314 cases over the last 12 months, which is a nearly 30% increase.
Police say an increase in contactless payment usage is behind the rise.
Deputy Chief Constable Fiona Taylor said: "We are seeing an increase in fraud in most local policing divisions across Scotland.
"Fraudsters will use any opportunity to profit from their victims and we are determined to disrupt those who seek to exploit our communities in this way.
"We are working with high street banks and trading standards teams to prevent customers falling victim to fraud, allowing staff to alert the police to any unusual withdrawals.
"The introduction of this Banking Protocol has resulted in more than £1.8 million in fraudulent transactions being prevented since Police Scotland joined the scheme in March 2018.
"Through partnership initiatives such as these, we can protect people and businesses and stop fraudsters in their tracks.
"Only 20% of incidents attended by Police Scotland result in a crime being recorded, yet the demand on our services is as high as ever.
"Whether it's searching for missing people or dealing with individuals who are in distress, our officers and staff are working tirelessly to keep the people of Scotland safe."
New figures for Fife also show a drop in sexual crimes, but an increase in incidents of threats and extortion, and in attacks on emergency service workers.
The number of incidents of distributing or threatening to distribute an intimate image - informally known as 'revenge porn' - have risen by 300% in Fife, from 8 to 24 cases.