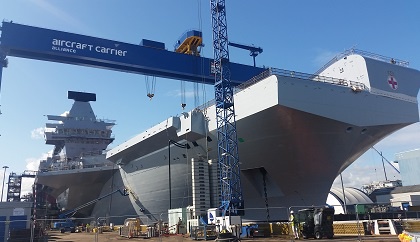 There are fears for jobs at the Rosyth shipyard
There are calls to reverse a decision to offer shipbuilding contracts to foreign firms.
The tenders for a fleet of Royal Navy ships are worth around £1bn.
But a refusal to guarantee that the work stays in Britain means thousands of jobs at the Rosyth dockyard are under threat.
Around 400 workers were made redundant when work on two Royal Navy warships finished at the Fife dockyard last year.
Lesley Laird MP, Labour's Scottish spokesperson, said: "The joint trade unions recently wrote to David Mundell expressing grave concerns about the prospect of the upcoming £1 billion Fleet Solid Support ships (FSS) contract going to international tender.
"The fact that the Scottish Secretary hasn't responded is absolutely shocking and speaks volumes about where this Government's priorities lie.
"Rosyth has a highly-skilled, well-paid local workforce, boosting our economy and ensuring money flows back into local businesses and shops.
"The UK boasts a world-leading Defence Industry and the Government should be doing everything it can to ensure its survival.
"Instead the Tories are hell-bent on awarding the job to the cheapest bidder. It's a travesty."
A UK Government spokesman said: "It's nonsense to say that David Mundell is ignoring workers at Rosyth.
"The Office of the Secretary of State for Scotland received a letter from the unions 10 working days ago asking for a meeting with the Scotland Secretary and the other Scottish Conservative MPs.
"We have been exploring options and will be responding to the letter shortly.
"Separately Minister for Defence Procurement, Stuart Andrew, has met with the Confederation of Shipbuilding and Engineering Unions (CSEU) and other unions today (December 5) to listen to their concerns.
"UK Government minister Lord Duncan also met with Babcock less than three weeks ago to hear about the company's plans for the future.
"Defence is vital for protecting us from global dangers and for our economy by creating thousands of specialist and highly-skilled jobs and creating billions in exports.
"We will continue to engage closely with the industry and thank workers at key suppliers such as Babcock for their valued contribution."