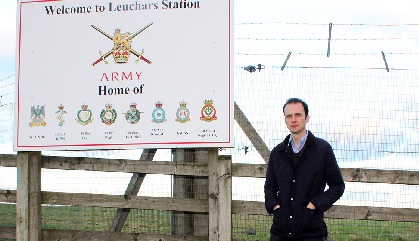 North East Fife MP Stephen Gethins says he is concerned about maintenance at the station
The UK Government is being asked for assurances that military homes in Fife will still be maintained, despite difficulties with Carillion.
The construction giant, which has been forced into liquidation, is responsible for servicemen and women's homes at Leuchars Station.
Fife MP Stephen Gethins says soldiers in the East Neuk have contacted him with concerns about damp and infested accomodation.
In the letter, Mr Gethins said:
"Several constituents who are serving military personnel, have expressed concern about issues with the condition of their housing with dampness and infestation, and I have been assured by the Ministry of Defence that improvements would be made by Carillion.
"However, given the current situation, I would ask for commitment from the Government to ensure that obligations to improve accommodation will be met whatever the outcome of the situation with Carillion.
"Service personnel based at Leuchars and elsewhere work extremely hard and they are their families deserve to live in good quality accommodation which is properly maintained and problems addressed to their satisfaction."