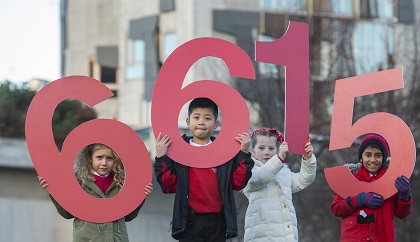 Schoolchildren illustrate how many kids will be homeless this Christmas
A housing charity says it is 'disgraceful' that 6,615 children are likely to be homeless across Scotland this christmas.
Shelter Scotland is blaming rising rents, poor pay and benefits changes, they are calling for more affordable homes to be built.
The are also claiming that, in areas where Universal Credit has been rolled out, upto 70% of families are in rent arrears.
This has been echoed by Fife Council's co-leaders, who say that their income has been impacted by the number of claimants who cannot afford to pay their housing costs.
Alison Watson, Deputy Director of Shelter Scotland, said: "Children being homeless in 21st century Scotland is a disgrace in itself, but with 6,615 being homeless at Christmas, drives home just how wrong it is.
"Last year in Scotland, 38 children were made homeless every day - more than 14,000.
"The number of homeless children has risen for four years in a row – so things are getting worse not better.
"It's time that promises were made and kept to the children of Scotland - that we will build enough affordable homes to make sure every child has a home not just for Christmas, but permanently."