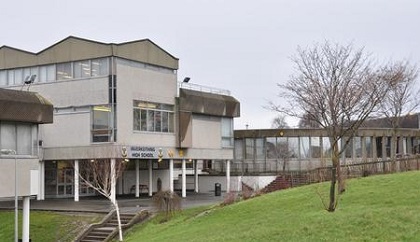 Staff and pupils at Inverkeithing High School have been reassured plans for a new campus have not been neglected amid discussion around a new Woodmill High replacement.
Plans for a so-called "super campus" in West Fife were sped up earlier this year following the devastating fire at Woodmill High.
The Scottish Government announced in September it would part-fund the replacement, which will see Woodmill and St Columba's High and Fife College all be taught on the same campus.
However it was agreed in 2018 the high school in Inverkeithing needed replaced, following a number of issues with water supply and water pipes.
MP for Dunfermline and West Fife, Douglas Chapman, said: "We are very clear, the plans to replace Woodmill and St Columbas is fantastic news for education in West Fife, but we are not taking our eye off the ball with Inverkeithing.
"Pupils there have been long overdue a replacement facility and they too deserve to be taught in the best facilities available and to that will be delivered.
"Replacing these ageing buildings was one of my key manifesto pledges and we are very much on the way to achieving that.
"We are united in finding a solution for this."
SNP councillor Fay Sinclair, Fife's Education and Children's Services Convener said: "We remain committed to delivering a replacement for Inverkeithing High School and officers have been working throughout the summer on technical studies on the six identified potential sites. th.
"We put a significant amount of funding for this into our capital investment plan at the start of this year and have already carried out a first round of public and community engagement around the requirements for a new, state-of-the-art facility."
Six potential sites for the new Inverkeithing High campus will be presented to the council's education committee in November.
The Fleet Grounds, HMS Caledonia and land at west Rosyth will be considered, as well as ground on the existing site and ground to the north east and west of the A921.