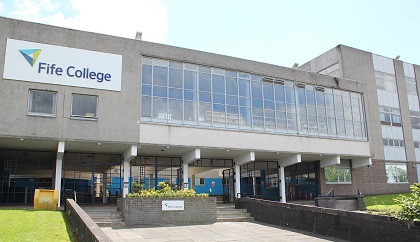 College lecturers are being accused of gambling with the future of students in a row over pay.
Teachers across Scotland - including in Fife - are on strike today following the most recent offer of a £6,000 pay increase.
Some are even threatening to withhold exam results.
Will McLeish from Colleges Scotland said: This is the third time in 4 years the EIS-FELA have been out on strike. Fife lecturers have been offered over £6,000 pay rise in three years - that is a 15% rise, but that still isn't enough for the EIS-FELA.
"Fife College are gravely concerned about the promise to withhold assessment results, this would have catastrophic impacts on students because they would not be able to pass their course and would not be able to move onto other college and university courses.
"They do have some contractual obligations, we urge them to suspend these damaging and unnecessary strikes, they are getting well paid."
EIS-FELA President Pam Currie said, "While EIS-FELA went into talks earlier this week in good faith in the hope of breaking the deadlock over lecturers' pay, management instead chose to issue a shopping list of demands around terms and conditions.
"This type of behaviour is simply unacceptable, and demonstrates that Colleges Scotland have little interest in settling this dispute and display scant regard for the impact of their actions on lecturers and students alike."

EIS General Secretary Larry Flanagan said: "It is disappointing that Colleges Scotland failed to accept the EIS offer to suspend strike action earlier this week.
"EIS-FELA put a straightforward proposition to them which didn't include additional money but which would have allowed negotiations to continue.
"Colleges Scotland rejected this and therefore the programme of industrial action will continue with today's strike, with a strong possibility of escalating action to follow."