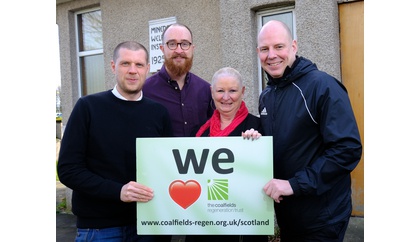 A donation of £8,500 is helping Delivering Dunfermline stage a music tour for young Fifers.
The iAM Outwith Festival will have a small tour of Oakley, Kelty and Lochore this year thanks to money donated by the Coalfield Regeneration Trust.
Around 50 youngsters will gain hands-on experience in putting on a tour before the official festival takes place in September.
Director Chris Foote said the project is about building skills for life:
"A major long-term priority for the project is to build indigenous resources for Fife's creative industries, increase transferable skill sets, decrease the attainment gap for young people and give them self-confidence and direction for possible future careers."
Head of operations for the Coalfield Regeneration Trust Pauline Douglas said:
"We're delighted to be bringing the Outwith Festival to the areas we support and it will be really exciting to see these live music events in Oakley, Kelty and Lochore."
Last year's festival saw 75 young people put on a performance at Carnegie Hall and create a 15-track album of original songs and covers.
The 2020 festival runs from the 1st to 6th of September, with the tour dates scheduled to take place throughout July.