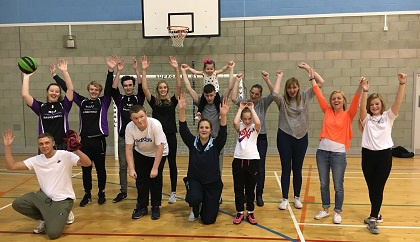 Some of the participants of the Stronger Families Inside Out scheme
The charity behind a scheme keeping families together when a parent ends up in prison say they want to roll it out across Scotland.
Families Outside, which works with families affected by imprisonment, has introduced sports activities run by Streetsport inside a jail in Aberdeen, where family members can play in a secure environment.
Europe-wide research suggests that regular contact between children and mums and dads behind bars prevents mental health problems and antisocial behaviour.
Parents with more family contact are also six times less likely to reoffend.
One mother of a child with a father inside HMP Grampion said: "Prison visits are hard on kids and my 8 year old daughter found them so difficult that she hadn't seen her dad in a few years.
"The Stronger Families Inside Out project makes the visits much more fun and interactive.
"She now looks forward to visiting her dad and has built a much better relationship with him.
"She is happier, more confident…. a different child.
"This Families Outside project is amazing, I've not heard of anything else that gives children the opportunity to maintain their relationships with their parents in such a positive and unique way."
The project has also received charitable funding from BBC Children in Need.
Nancy Loucks, CEO of Families Outside said: "We are extremely grateful for the support from BBC Children in Need and very excited to be working alongside Streetsport to deliver more meaningful family contact at HMP Grampian.
"The Stronger Families Inside Out project is already providing a unique platform to strengthen family ties, which in turn will improve children's general wellbeing, reduce the risk they will become involved in offending, and reduce reoffending in our current prison population - three incredibly positive outcomes that all lead to a safer Scotland for all."