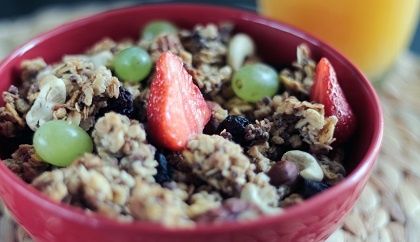 Some cereals do not contain colour-coded labels
The country's biggest cereal manufacturer has announed it is introducing colour-coded nutritional labels on some of its packaging.
Kellogg's say the red, yellow and green warnings will appear on its biggest-selling brands, including those targetted at kids.
The labels let shoppers compare easily how much salt, fat and sugar a product contains.
Kawther Hashem, a researcher with Action on Sugar, said: "We are pleased Kellogg's is adopting the colour coded front pack labelling in the UK.
"However, we are concerned the new design will not apply to 20% of products.
"Mandatory colour-coded labels are one of the most effective ways to communicate nutrition information for fat, salt, sugar and calories.
"This would ensure companies are held accountable which would drive reformulation and healthier product development."
Dr Linda Greenwall, founder of the Dental Wellness Trust, said: "At a time when a record number of youngsters are being admitted to hospital to have their teeth extracted at a cost of more than £36million to the NHS, we welcome this news as a small step in the right direction and urge all food and drink manufacturers to follow Kellogg UK's lead.
"One of the main reasons for tooth decay in children is largely because food and drink products are packed with unnecessary sugar and this is unacceptable."