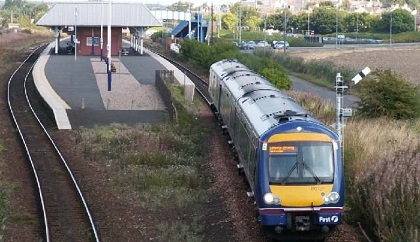 Campaigners want the train line from Leuchars (above) extended to St Andrews
Three groups calling for better rail travel in Fife are sharing Scottish Government funding to help bring more services to the Kingdom.
Under the Local Rail Development Fund, 10 groups across Scotland are sharing £681,000 to allow them to carry out 'multi-modal transport appraisals', which will let them examine different options to improve community access to rail services.
The Newburgh Train Station Group are getting around £82,000 from the funding.
They are calling for a railway station to be built in the North East Fife royal burgh, which already sits on the line running between Fife and Perth.
Fife Council is being allocated £170,000 to help alleviate problems caused by parking around train stations, and to examine how access to Fife's rail service impacts on travel in the Forth Bridgehead area.
The St Andrews Rail Link (StARLink) campaign is calling for the railway line to Leuchars to be extended so services can run to the Fife tourism hotspot, which has not had a train station since 1969.
They are being awarded around £40,000.
StARLink Convenor, Jane Ann Liston, said: "As a prime national and international destination, being the Home of Golf and Scotland's oldest university, the historic tourist destination of St Andrews has suffered for years from the onslaught of increasing traffic clogging up the town.
"The StARLink campaign believes that the option of direct rail travel from Edinburgh, including the airport interchange, and Dundee to the town would significantly alleviate both the physical and environmental effects of too many cars in the a small town with a mediaeval layout.
"In addition, improving the connectivity with the likes of Cupar, Dundee and Dunfermline will spread the economic benefits generated by St Andrews over the whole of Fife and also across the Tay."
The new fund is believed to be worth around £2m over several years.
Scottish Cabinet Secretary for Transport, Infrastructure and Connectivity, Michael Matheson, said:
"Since 2007, we have invested around £8bn to help build the best railway Scotland has ever had.
"The success of this relies on communities embracing the potential harnessed by the railway and it is very pleasing to see so much interest in the Local Rail Development Fund.
"Providing funding for these transport appraisals will allow the successful applicants to consider the transport issues and opportunities affecting their local communities.
"It has been great to hear, first-hand, the enthusiasm and drive behind them.
"Helping communities bring forward proposals to tackle these specific, local rail connectivity issues, will allow us to consider potential projects as part of our plans for future investment in our railways."