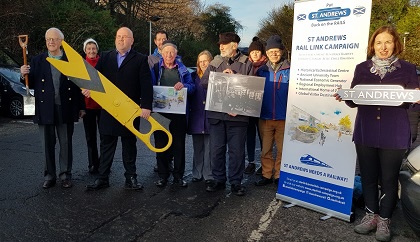 Campaigners descended on the site of the old railway station
Campaigners in St Andrews re marking 50 years since the last train left the town by calling for rail services to return.
At the moment, passengers can only go as far as Leuchars by train before transferring to a regular bus service.
Locals argue that extending the line to St Andrews would help to bring in more tourists.
There are also particular concerns about the number of cars clogging up unsuitable streets.
The St Andrews railway line opened in 1852 and closed in 1969 when passenger numbers declined because of the opening of the Tay Road bridge.
Campaigners gathered on Friday morning at the site of the old railway station on Doubledykes Road to protest the lack of any rail link in the town.
Jane Ann Liston is the convener of the STaRLink (St Andrews Rail Link) campaign group, she says that the recent Borders Rail campaign is giving her hope that reinstatement is possible: