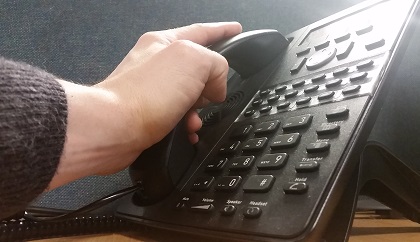 The number of parents, relatives and carers turning to advice services for help is increasing in Scotland.
There have been 12% more calls to ParentLine in the last year than the year before about contact issues, kids' behaviour and a child's safety.
Volunteers behind the advice line, which is run by the Children 1st charity, say it is often vital for parents who are feeling isolated.
Mary Glasgow, Acting Chief Executive of Children 1st said:
"Today many people live further away from their extended families and many parents and carers tell us they can feel very isolated.
"Some families are desperate for support because their child is at crisis point, others are living in extremely stressful situations and others want a bit of help with the everyday ups and downs of being a parent or carer.
"With increasing levels of anxiety, depression and self-harm among children there is an urgent demand for additional support to help meet children and young people's mental health needs.
"Through ParentLine Scotland we provide a safe space for families to talk, get help to understand their child's world and focus on their child's wellbeing, which is key to helping children lead safe, happy and fulfilling lives."
Maree Todd, the Scottish Minister for Childcare and Early Years has visited volunteers at the service to see more about how they help support families.
She said:
"The Scottish Government is committed to making Scotland the best place for children to grow-up and it's crucial that parents and carers are supported.
"I'm very pleased to visit Children 1st today to learn about the work they do and to see the work of ParentLine in action.
"ParentLine is a good example of a service supporting the emotional health and wellbeing of parents and carers and providing a safe space for advice on how best to support their children.
"This is important in the wider context of the Government's focus to work across services and sectors to better prevent adverse childhood experiences, and where adversity or trauma has occurred, to reduce the negative impacts of this and support people's resilience."
ParentLine Scotland is available free on the phone on 08000 28 22 33, and for online chat at www.parentlinescotland.org.uk
You can also text chat on 07860 022844 or email parentlinescotland@children1st.org.uk