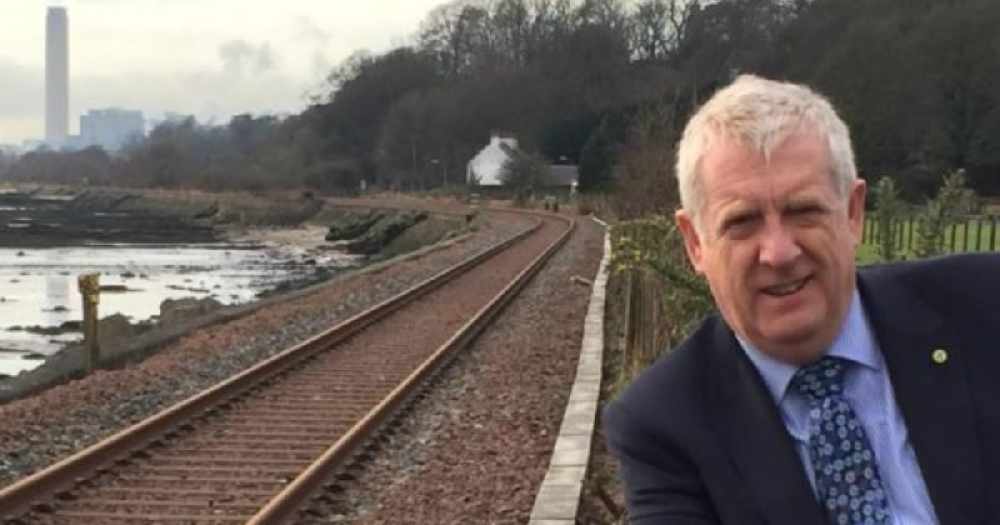 Douglas Chapman at the rail line.
A Fife MP has requested a meeting with Scotland's transport minister to discuss the potential reopening of the West Fife rail line.
Douglas Chapman claimed the start of a new parliamentary term offered the Scottish Government an opportunity to get the rail line back on the agenda and "make real progress".
The stretch of track runs from Alloa to Dunfermline; it was previously used for freight but has been lying largely unused since the closure of Longannet Power Station in 2016.
In his letter to Minister for Transport Graeme Dey, Dunfermline and West Fife MP Douglas Chapman wrote: "There is a clear interest both from the public and private enterprise in the reopening of the West Fife rail line.
"Given we have just had an election and the Scottish Parliament has commenced a new term, I believe we have an opportunity to get the West Fife rail line pushed further up the agenda and make real progress to join up rail in Fife and Alloa - Dunfermline remains the only missing link."
Last year Network Rail announced it was looking to enhance rail links between Clackmannanshire and Fife by potentially electrifying and reinstating passenger services between Alloa and Longannet.
The organisation also recently submitted a request for an Environmental Impact Assessment for a proposed railway station on land south of Broomknowe, Kincardine.
Mr Chapman said: "In the year of COP26 and our national drive towards net zero, it's vital that efforts are made to seize all available opportunities to expand our rail network and encourage more people out of their cars.
"Work is clearly underway to potentially reopen the line between Alloa and Longannet, but to stop there would be a huge missed opportunity.
"The potential economic and environmental benefits to people in the West Fife villages and into Dunfermline that would be unlocked by fully reopening the rail line to passengers, and the impact on their lives, could be significant - as well as boost such things as tourism.
"I've requested a meeting with the Minister for Transport so I can outline those benefits to him directly, and hopefully make some real progress in getting the line reopened.
"Receiving the support of the new Minister for Transport would be encouraging to all those who want to see a line re-established."