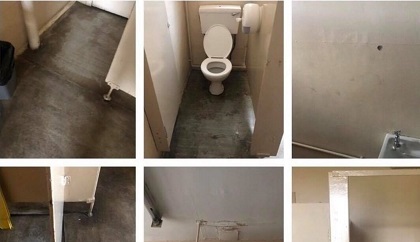 Campaigners want Fife Council to replace the toilets at Torryburn PS (Pic: Change.org)
Almost 140 people have backed a petition urging Fife Council to replace the toilets at Torryburn Primary School. 
The Change.org document, which was set up three weeks ago, claims up to 70 boys are sharing just three urinals and as many toilets.
Writing on the petition, a spokesperson for Torryburn and Newmills Community Council said:
"For a long time the school have been requesting Fife Council replace the existing toilets at Torryburn Primary School.
"The prime opportunity of the summer holidays has now passed with nothing done.
"With a role of approximately 120 pupils, 60-70 of them (are) boys sharing three urinals and three toilets."
They added: "(the) flooring, walls and fixtures all desperately need replacing in both the girls and boys (toilets)".
A number of parents from the school's community have signed the petition, with some branding the loo's "unhygienic".
One supporter wrote: "These lavatories have been in a terrible state for some time. How unpleasant for our kids".
Another said: "My nephew goes to this school, now in primary 7, but he doesn't use them (and) now I know why. Shocking."
We contacted Fife Council for a comment on Monday September 16.
You can sign the petition here: https://www.change.org/p/fife-council-new-toilets-for-the-girls-and-boys-of-torryburn-primary-school