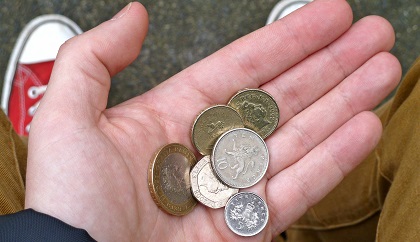 One million Scots are living in poverty
The Scottish Government is being urged to top up child benefit and make sure everyone can afford to heat their home, to help bring down levels of poverty.
There are also calls for benefits staff in Scotland to be given more training to help reduce the stigma around people living in deprivation.
One year since the Child Poverty Act was introduced in Scotland, a charity is worried that one in four kids is among one million Scots still living below the breadline.
A specialist from the UN, Professor Philip Alston, is being brought in to help work out why as part of a two week inquiry into rising poverty across the UK.
Peter Kelly, Director of the Poverty Alliance, said: "When the Child Poverty Act passed with the unanimous support of all parties in the Scottish Parliament, our political leaders sent a clear signal that in a just and compassionate society it is not acceptable that so many children are living in poverty.
"All levels of government have a responsibility to take action to reverse the rising tide of poverty.
"With 11 social security benefits now devolved or being devolved, the Scottish Government has a huge opportunity to ensure the support people receive enables everyone to have a decent standard of living, by moving towards meeting the Minimum Income Standard.
"These standards are based on what members of the public think is the minimum that is required to enable people to live with dignity.
"Increasing the value of the Best Start Grant and Carers Supplement have been welcome first steps.
"Additional measures are now needed to achieve the Act's ambitious targets.
"A £5 top-up to child benefit should be among the Scottish Government's top priorities for achieving the transformation required."