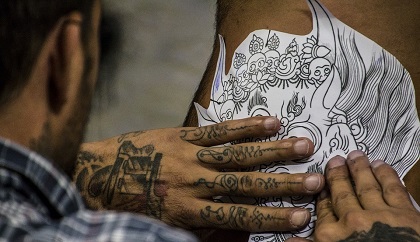 There are calls for the Scottish Government to back a campaign aiming to reduce discrimination towards people living with HIV who want to get a tattoo.
Labour MSP Kezia Dugdale is joining the charity HIV Scotland, demanding Holyrood better educates the public about the legalities regarding tattoo studios and those living with the disease.
Since the Equality Act was introduced, it's been illegal to discriminate against a person with the disease who wants to get a tattoo.
HIV Scotland's policy and public affairs officer, Dylan Morris, said:
"It is not known to people living with HIV that they are protected by the Equality Act.
"There has not been any big push by government or local authorities, or indeed charities, to make sure people are aware of their legal status when they are living with HIV.
"The stigma is not necessarily an insidious one: it is one which is based on misinformation and a misunderstanding of the facts.
"That is why we need to push for a national education campaign which ensures that people living with HIV and tattoo studios know exactly where they stand."
MSP Kezia Dugdale added: "I fully support HIV Scotland's campaign to end this discrimination and to apply pressure on local authorities to revoke licenses for tattooists who refuse service for anyone living with HIV."