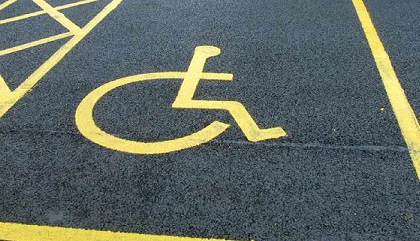 Parking in disabled bays can incur a fine
Private car park owners - especially smaller ones - are not doing enough to stop drivers misusing disabled parking spaces.
That is according to a Holyrood committee calling for a crackdown on able-bodied people using blue-badge bays.
MSPs on the Local Government and Communities Committee at Holyrood say there is still a perception that it is OK if you are only stopping for a short amount of time.
The Disabled Persons' Parking Places (Scotland) Act forces councils to identify parking spaces for drivers with disabilities, and ensure that they are enforced.
Committee Convener, Bob Doris MSP, said: "Our Committee was pleased to see that local authorities and some private car parks had cracked down on the misuse of disabled parking places since the Act was introduced in 2009.
"However, during our evidence sessions, we heard from disability groups and many said there is still a perception that it is acceptable to use a disabled parking place even if it's just to 'nip to the shops'.
"We believe this is entirely unacceptable and people must understand that depriving someone of a disabled space could mean they are preventing that person from getting to their homes, jobs and to vital services.
"That's why we've strongly urged the Scottish Government to devise a national awareness campaign in order to avoid the misuse and abuse of disabled parking in the future.
"We also recommend a review of how disabled parking abuse is enforced, which would help strengthen this message further."