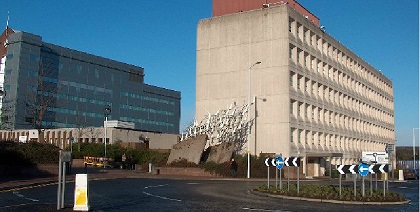 Fife Council have given the plans the green light.
Businesses in Glenrothes are welcoming plans to create 9 new units in the Queensway Industrial estate.
Fife Council gave the proposals for the solar powered units the go ahead with work expected to start in the autumn.
As well as new units, the industrial estate will get a new access road and car parking facilities.
It's part of the Edinburgh and South East Scotland City Region deal which is aiming to boost the local economy and create jobs.
General manager of Jack's Auto-car centre Jack McDowell thinks it's a good think for the town:
Fife Council Co-Leader, Cllr David Alexander, said: "This is another important step forward in delivering the ten-year programme that will encourage more businesses to locate and grow within Fife, and secure a further £30m of investment by the private sector.

"Our focus in Fife is firmly on fairer economic growth, where everyone benefits from good employment opportunities and regional investments.
"Fife's ten-year/£48.4m Industrial Innovation Investment Programme will deliver much-needed new industrial buildings in key locations in Mid and South Fife.
"This is a major economic opportunity for the businesses that will be able to expand into the new units and those investing in the sites delivered by the Programme. The programme will also provide a boost to the economy through construction activity."

Fife Council Co-Leader, Cllr David Ross, said: "This project, now on its way to becoming a reality, will be the first visible sign of the positive changes that the City Region Deal will bring to Fife.

"Through the Edinburgh and South East Scotland City Region Deal regional partners will secure more than £1.3 billion of investment for the city region over the next 15 years. We believe that this can create clear opportunities for genuine inclusive economic growth and investment in Fife.
"The Deal focuses on growing the regional economy through collaboration and by being outward-looking, building on the region's existing strengths in key sectors and industries.
"Our Fife Industrial Innovation Investment programme will increase the supply of serviced employment land and new industrial, office and business space in Fife."