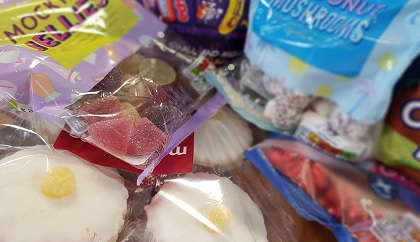 Marketing on sweets is going to be examined
A possible ban on buy-one-get-one-free offers in supermarkets is going to be considered by the Scottish Government this autumn.
They are among plans announced this morning to tackle Scotland's obesity problem.
Extra effort is being made to cut the number of children who are overweight.
Public Health Minister Joe Fitzpatrick said: "Far too many people in Scotland face serious risks to their health linked to poor diet and unhealthy weight.
"This is unacceptable and it's largely avoidable.
"Scotland has a proud history of taking decisive action on public health and this is the next step in that journey, turning our attention to the nation's diet and weight.
"Giving children the best possible start in life is one of this Government's key priorities.
"We've pledged to halve childhood obesity by 2030 and that ambition is at the heart of our delivery plan."
Food Standards Scotland's Chief Executive, Geoff Ogle, said: "Too many of us are overweight or obese and if we don't urgently address this, 40% of us are projected to be obese by 2030.
"The good news is that the public are now recognising the need for change, with nine out of 10 of us in Scotland agreeing that obesity is a serious problem.
"We're pleased the Scottish Government's plan takes into account some of FSS's recommendations to improve Scotland's food environment and make healthier choices easier for consumers.
"The plan also outlines FSS's commitment to consult on an out of home strategy, which will explore measures to encourage healthier choices when eating out of home.
"We welcome the emphasis on encouraging leaders in Scotland to promote healthy diet and ensure diet related health inequalities are reduced."