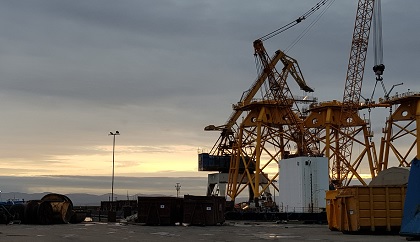 Union bosses are calling on the Scottish Government to make sure there is a 'level playing field' to make sure firms like BiFab can secure work.
It comes as the struggling Fife manufacturers missed out on an opportunity to make turbine jackets and floating platforms for Scottish wind projects.
The GMB and Unite unions say it is up to the First Minister to make sure local firms are not overlooked in favour of cheaper, foreign contractors.
GMB Scotland Secretary, Gary Smith and Unite Scotland Secretary Pat Rafferty said: "Ten years ago we were promised a 'Saudi Arabia of Renewables' but today we need political intervention to help level the playing field in Scottish offshore renewables manufacturing.
"The truth is that state funded European energy and engineering firms, backed by Far East finance and Middle East sovereign wealth funds, are carving-up thousands of jobs and billions of pounds from our renewables sector, and firms like BiFab are left fighting for scraps off our own table.
"That one hundred per cent of the manufacturing of the turbine jackets for Moray East and five platforms for Kincardine will be done in yards outside of Scotland is an absolute scandal.
"This cannot continue unchallenged.
"To working class communities in Burntisland and Methil there's no 'just transition' or 'green jobs revolution' here, just a future that looks heavily rigged against their hopes for employment and prosperity. That's the real cost of long-term political failure at all levels of government.
"The Scottish Government and the public have a stake in BiFab and with it our renewables manufacturing future; we owe it to our ourselves to tackle the spaghetti bowl of vested interest groups that's dominating our renewables sector and to fight for Scotland's share."