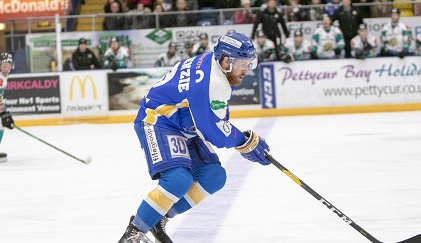 Fife Flyers have confirmed that British forward Bari McKenzie will return to the club for a second season.
McKenzie joined the Flyers for the 2018/19 season from rivals Glasgow Clan.
Popular with the fans, McKenzie won the British Player of the Year and the Unsung Hero Award at the Flyers 2018/19 End of Season Awards at the Bay Hotel.
The 32-year-old from Dumfries had the following to say on re-signing for the club: "From the first minute I walked in to the locker room I felt at home, and I knew it was going to be special playing in Fife. I certainly wasn't disappointed. I'm so happy to be returning for a second season.
"I'm looking forward to continuing to help push forward with our aim of winning trophies."
Head Coach Todd Dutiaume added: "Both Hutch (Assistant Coach & Director of Player Development - Jeff Hutchins) and I were keen to sign Bari up for a second season. He was popular both in the room and with the fans last season, and was a committed member of the team. He has a lot of experience in the league and will continue to be a valuable asset for us."