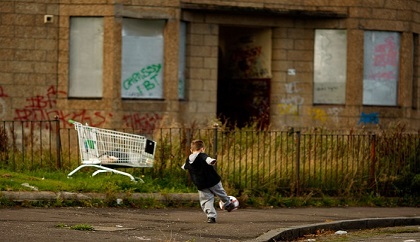 People in poorer areas are dying earlier from preventable conditions
People living in poorer parts of Scotland are more likely than those in richer areas to die early and in 'preventable' circumstances.
New research has found deaths from drug misuse, diabetes and viruses such as HIV are higher among Scots living in poverty.
Last year, there were 1,100 'avoidable' deaths in Fife, that figure has risen year-on-year since 2016.
Easy access to alcohol, tobacco and junk food is among the factors being blamed.
In Fife, councillors are consulting on banning any new alcohol licences from being granted in Kirkcaldy, Cowdenbeath and Levenmouth.
Dr Andrew Fraser, director of Public Health Science at NHS Health Scotland, said: "It's not right that, in a country like Scotland, there are such dramatic differences in life expectancy due to circumstances largely beyond a person's control.
"We know that people in poorer areas experience more harm from alcohol, tobacco and fast food than those in more affluent areas.
"Part of the reason for this is that it is easier to access the things that harm our health in those areas.
"To prevent death, disease and harm we need to take actions where and when they are needed.
"We must address harm from alcohol, tobacco, being overweight or obese.
"However these are often common factors, co-existing in communities, groups and individuals, and so we must also address the environment we live in.
"We need to use the best evidence available to us and tackle the causes of inequalities.
"This means taking action across a range of policy areas to tackle the economic and social inequalities - enabling everyone to thrive in healthy surroundings."