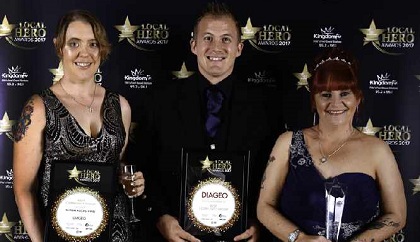 The Autism Rocks Fife team won a Kingdom FM Local Hero award last year
A charity supporting over 1,400 autistic people in and around Fife is looking for donations, so it can take its services on the road.
Autism Rocks Fife have a centre and sensory garden in Buckhaven, but now want to equip a bus or lorry with equipment that they can take to families who cannot come to them.
That is expected to set them back between £20,000-25,000.
The registered charity is run entirely by parents and carers of people on the qutistic spectrum and relient on donations.
They have received Lottery funding in the past to set up their Kaleidoscope drop-in centre and their Aurora sensory garden, but struggle to receive other funding as they do not have any paid staff.
Their membership spans whe whole of Fife, with others as far as Edinburgh.
Many people with autism struggle to travel long distances, while other families cannot afford the travel costs.
Liza Quin, who founded the charity in 2014, says the work it does makes a huge difference, both to people with autism and their parents and carers: