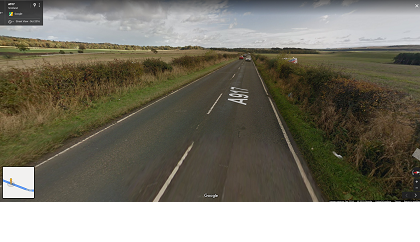 A 46-year-old cyclist was found on the road between Elie and St Monans on Monday July 8 (Pic: Google Maps)
Police have appealed to the public to come forward, after a cyclist was found in a critical condition between St Monans and Elie on Monday night.
Emergency services were called to the A917 at around 7:45pm on July 8 after a 43-year-old man was found with serious head injuries.
Scott Walker, from St Monans, was then rushed to Ninewell's Hospital in Dunfermline, where he later died on Tuesday evening.
Fife Police have now said they are looking to trace the driver of a silver Vauxhall Astra, which may have been involved in a collision near the time of the incident.
It is not known whether the Astra is a hatchback, estate or van model at this time.
Speaking to Kingdom FM News ,DCI John Anderson from the Fife division has encouraged anyone with information to come forward:
"We are really keen to hear from people who might have dashcam footage who may have been travelling in the East Neuk of Fife.
"We're urging anybody who has knowledge this morning of a damage motor vehicle matching that description to report that to the place, as well as anyone who has worked on a damaged vehicle such as that to come forward."
He continued: "For the driver of such a vehicle who has been involved in a collision in that area, between Elie an St Monans, please come forward to the police rather than wait for us to come and chap their door.
"Give us an explanation as to what has happened and allow us to get some answers for the family involved."
Anyone with information has been urged to contact police on 101 and quote incident number 3910 on July 8.