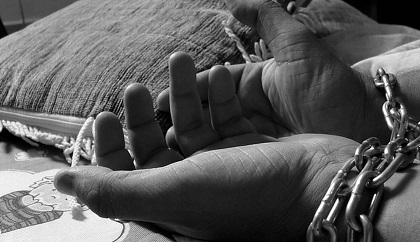 An awareness raising campaign is arriving in Fife today, to try to tackle the growing problem of child trafficking.
Childreach International is screening a film at St Andrews University tonight, to discuss the importance of education in preventing it.
It is estimated human trafficking between India and Nepal has increased by 300% since the earthquakes there in 2015.
The film 'SOLD' tells the story of Lakshmi, a thirteen year-old Nepali girl sold to a brothel in India.
It is a tale of survival, intended to inspire audiences to take a stand.
This Hollywood-charity partnership recently appeared at the prestigious Trust Women Conference in November 2016 to discuss the importance of education in preventing child trafficking in Nepal, and how their 'Taught, Not Trafficked' campaign is raising awareness and tackling the root causes behind it.
With funds raised, Childreach International prevent the exploitation of children by ensuring they complete their education.
Childreach International's research indicated that keeping children in school is the best way to prevent child trafficking.
Evidence suggests that if a child stays in school until they are 16 years old, they are significantly less likely to be trafficked or exploited.
To date, money raised for the campaign has enabled Childreach to open 86 earthquake resistant classrooms in the Sindhupalchowk district - allowing 2,082 children to return to school after their classrooms were destroyed.
As well as this, the campaign engages children in discussions on child rights, gender equality and trafficking through sports and games, works with survivors for community awareness and trains teachers on an anti-trafficking module for the classroom.
Tiffany Watts, Executive Director of Childreach International said:
"Our goal in Nepal is to stop trafficking before it begins, by ensuring children are educated and in a safe space in school.
"Our work may be just a drop in the ocean, but through SOLD we hope that our drop becomes a ripple and then a wave of change as others join us in the fight against trafficking."