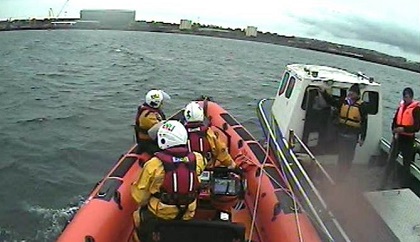 It is hoped a documentary showing the hard work of lifeboat crews will inspire people to volunteer with Anstruther RNLI.
The BBC Two programme Saving Lives at Sea featured the Fife crew on Monday night.
The charity say there is a shortage of volunteers at Anstruther during the week and are currently advertising a position at the base.
Station coxswain Michael Bruce said: 'Volunteering with us gives people the opportunity to make a real difference in their local community, to save lives and become part of the larger RNLI family.
"We can't keep people safe without the support of our wonderful volunteers, who truly make a difference every day no matter which
role they are fulfilling.
"Becoming a volunteer crew member is a great chance to play a crucial part in helping to save lives."
He added: We're looking for enthusiastic people aged between 17 and 55, who can commit to training, live or work within 4 miles of Anstruther Lifeboat station and have the personal circumstances or a compassionate employer that would allow you to respond to service calls from 8am – 6pm Monday – Friday."
If you are interested in finding out more, please pop into the lifeboat station between 10am and 3pm weekdays or apply online: https://volunteering.rnli.org/vacancy/volunteer-crew-member-anstruther-401606.html