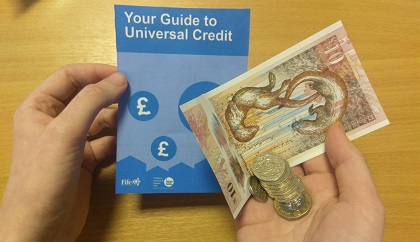 The benefit is causing rent arrears and increased foodbank use in Fife
Protests are being held in Kirkcaldy today urging the government to halt the rollout of universal credit.
One year on from the introduction of the new benefit, campaigners are blaming it on an increase in rent arrears and the use of foodbanks
The foodbank in Kirkcaldy is reporting a 300% increase in its use.
Around three-quarters of benefits claimants in Fife are on universal credit.
Tam Kirby, from Fife People's Assembly, said: "Universal Credit went live in Fife exactly one year ago.
"Approximately 75% of all people claiming Social Security are now on Universal credit in Fife.
"Over this period local and national foodbanks reported a 300% rise in the number of food parcels they had to issue to those in need.
"These same foodbanks linked this rise directly to the full roll out of UC.
"Over the same period Fife Council has seen a large increase in rent arrears.
"A large proportion of those now on Universal Credit are in work.
"Between now and next year, anyone in work who, due to low wages, are claiming Housing Benefit and/or Tax Credits will moved over to Universal Credit."
"Universal Credit is not an unemployment benefit, it is designed for those on low wages, in part time work or on precarious contracts.
"Universal Credit is not just there to cut billions from the Social Security bill, or to "make work pay". It is designed to cope with the gig economy.
"It is designed to cope with people having 2 or 3 part time jobs, it is designed to force people into taking this type of work."